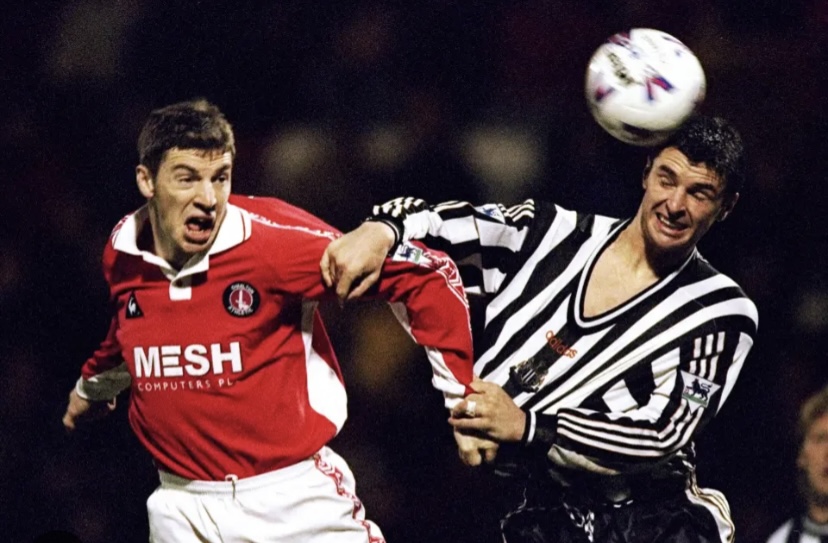 This one comes from Andy Hunt, a former Premier League player for Charlton, West Brom and Newcastle… now overseeing projects in Belize.
Can you tell me a little bit about yourself?
I was born in Essex and grew up in Norfolk. My Football career took me from Kings Lynn, Kettering, Newcastle United, West Bromwich Albion and Charlton Athletic. I was spotted late, turning Pro at the ripe old age of 20. I had a meteoric rise, getting into the 1st team at Kings Lynn at 19 years of age, before being snapped up immediately by Kettering, after we
played them in a pre-season friendly. I was at Kettering for just a few months and played well enough to garner the attention of clubs like Newcastle and Everton. Kettering were top of the old Vauxhall Conference and Newcastle signed me.

I played under some great managers through my career, including World Cup Winner Osvaldo Ardiles, Kevin Keegan, Ray Harford and Alan Curbishley.

I was fortunate to be a part of 2 promotion seasons, play for 2 years in the Premier League and score 135 goals through my career but I was forced to retire at 30 when I moved to Belize in Central America and have been there ever since. We (my wife and I) developed an Adventure Travel Company/Lodge.
What is your current role?)
For the past 8 years I have helped local clubs in Belize with their teams and coaching and been developing young players. I have also been up-skilling myself, studying with the Barca Innovation Hub, taking courses with the Professional Football Scouts Association, Analyisport and other learning
platforms.

Studying talent Id, scouting and performance/video analysis. I have been scouting in this region of the world, which is very enjoyable.

What is it about your role that you love?
The coaching has been very rewarding. In Belize, many players come from challenging backgrounds and the opportunities for them are limited.

Through our program we were able to provide a healthy, constructive environment for lots of youths. We sponsored many to get them through
School/University here in Belize and recently we were able to send 4 players on scholarships to USA to study/play at Universities. We were also able to send more players to USA to play in the 4th tier of USA football.

They spent the summer training/playing and gaining a unique football experience. Most players in Belize do not get these kinds of opportunities so this was extremely rewarding for us to put all of this together.

What have you found different from coaching in the UK?
I haven't coached in the UK so I can't really make that comparison but my experiences of UK football have been at the professional level as a player.

However I am friends with lots of coaches in UK and talk regularly with them. The difference between Belize and UK is night and day. Belize is starting its journey as a developing football country.

Are there any challenges that you currently face or have previously faced from coaching abroad?
I live in Belize and have been here for 21 years. As such I do not consider myself to be coaching abroad. Nevertheless, the challenges here have been enormous. What you take for granted in the UK does not exist here.
Facilities are generally below the level you see in the UK, resources and funding extremely limited. The football and sporting culture doesn't exist in the same way as it does in UK. Parental support is almost non-existent. There are very limited options for players. The pressure for players to get jobs, settle down etc is very real.

Football is a big sport in Belize, participation is high and there are lots of good players. Generally though, it is a sport played for fun and the level of play reflects this. The town where I live has approx 30,000 people and before covid, I counted 52 different teams. What this means is that the very
limited resources are stretched even further. It is really challenging to keep players and even more challenging to get players together on a regular basis for training. Players switch from team to team every season and teams pop in and out of existence all the time.
When covid hit we made a decision to continue training the players in any way we could. We were one of the only groups in the country that was training. Restrictions meant we could only do running, no ball work. We invested in heart rate monitors so the players could get an understanding of how their bodies were working, created targets, to try and keep the fitness work interesting.
It was a hard time for everyone and keeping youngsters active was important. For many we had to assist with food packages so they could get the nutrition needed. After covid we quickly ramped up training and the players reached an excellent level of play/understanding. We introduced them to video/performance analysis. This had never been done before in the country. The 16-20 year olds were competing with the countries best semi-pro teams
and even went head to head with the Men's National Team, performing excellently in a series of games.

We had managed to teach players to adapt to different systems, 4-2-3-1, 5-4-1 etc so that was very pleasing. But even through all of this it was impossible to get support for the youngsters. These are the real challenges.

Are there any countries that you would love to coach in? If so, why?
I would be interested in returning to UK at some point or maybe Netherlands, where we have family, or possibly the USA. Many of our players have started studying/playing at USA Universities and I have enjoyed watching and getting to know US football.
Do you have a preferred style to coaching?
I mostly try to find the right question to ask the players. The greatest moments for me in coaching have been getting young players to start taking command of their games. In training, we made huge breakthroughs with players.

When we stopped sessions we encouraged the players to analyse what
was happening, why it wasn't working, and figure out the solutions. The sessions went from predominantly hearing the coaches to mostly hearing the players. Not just noise, but players coaching themselves and their team, with us guiding them towards the desired outcomes. In meetings, more and more players would express their opinions, feeling safe to do so.

We moved from an autocratic to a democratic approach, which was a big deal here. I have a very flexible style to coaching and am certainly not fixed to any particular game system. I like training to be fun, enjoyable, so long as I feel like we have progressed.
What is your next step?
Good question. I feel like I have been a part of a very interesting project in Belize with regards to what could be achieved with young players on extremely limited resources, however it has been a lot of hard work, way more than it should have been, due to the challenging environment.

In 2023 Concacaf is opening up its Champions League for Belize and other smaller countries so that the clubs get a group stage, with lots of matches. This will likely be huge for the country. With only 8 teams in the Belize top league and 2 Concacaf spots to play for, it is possibly the easiest route into
the Concacaf Champions League.
I have spoken with MLS clubs, English clubs about partnering to
develop something within the country. We have a partnership ready to go, under the umbrella of a global brand. The natural pathway for players would be to the USA/Canada or other Central
American countries.
UK is a difficult route for players due to the GBE restrictions. An academy,
franchised to a big club is desperately needed so that players can be properly identified early and put into the right training environment. I think Belize will get to this stage one day and it may not be that far off. If it is done the right way, Belize could be producing a steady stream of high quality
players. We will see what happens.

What is your long term aim?
I have never had a long term plan. I always enjoyed the process (loved to train as a kid and it took me to the pro level) and see where it leads me. I suspect this is happening to me at the moment, though I don't know what I will be doing in 1 year, 5 years or 10.
Any tips for other coaches out there in regards to coaching?
Don't think there is a magic formula or a "right way" to do things. Embrace your own style and keep an open mind. What works today will be challenged tomorrow. Many of the kids that you coach today will come back into your life years down the line. I am already seeing this in my short coaching
career and it is amazing to see them progress in football and their personal lives.
If you have ambitions to be a coach at higher levels then understand that football is a tough business, really tough. Therefore, enjoy the journey and treat people well along the way.
What about tips for coaching abroad?
You should be clear about your motivations and expectations. Are you looking to progress your career. Do you want paid work or are you prepared to volunteer? There are lots of really great community coaching opportunities around the world but don't expect to be paid. In fact more than
likely it will cost you money. Working in smaller countries is a real challenge.
Check the countries international results/rankings. If they are bad or getting worse then there is a reason for this. Do you want to jump into this kind of environment. You may need to throw out your coaching playbook and
improvise.
Football is a global business though and if you have aspirations to coach at higher levels, then an understanding of different cultures is essential, perhaps even pick up a 2nd language. A stint coaching anywhere in the world will be great for your resume and for your development as a coach. You will surely make some great friends along the way.
Thank you Andy. Let's hope you can get some interest in connecting your project!
@LloydOwers (Twitter)